Campus Cloud Services Named 2022 SIIA CODiE Award Ed Tech Finalist in Best Administrative System
Campus Cloud earns nod from industry leaders
Pottstown, PA – April 27, 2022 – Campus Cloud Services today announced that its product, Campus Cloud, was named a 2022 SIIA CODiE Award finalist in the Ed Tech Best Administrative System category.
The SIIA CODiE Awards are the industry's only peer-recognized awards program. Finalists are determined by industry experts and represent the best products, services and people in the education and business technology industries.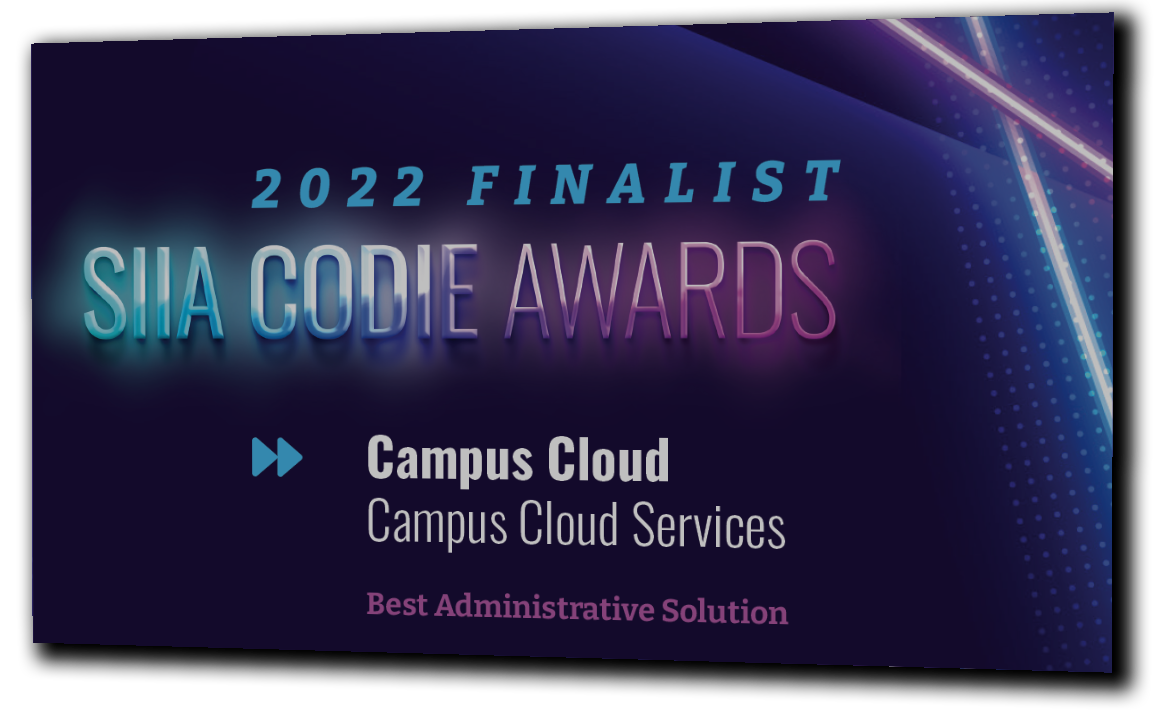 Campus Cloud is the first cloud-based student information system (SIS) and a real-time solution that manages all student data in one place – across admissions, academics, financial aid, accounts and billing, graduation, and career placement.
With over 350 application programming interfaces (APIs) to choose from, Campus Cloud is allowed to communicate with most learning management systems (LMS), including Canvas, Moodle, Brightspace, and other software popular in the higher education market. By embracing an open API environment and native web, Campus Cloud users are given the ability to build on any platform with the open API environment and access it from any device that supports a web browser.
In order to meet the growing demands and performance challenges, Campus Cloud migrated to MariaDB SkySQL as their cloud database running on Google Cloud Platform (GCP) and SkyDBA for fractional DBAs with A+ proactive care. SkySQL's database firewall, dynamic data masking, and other enterprise security features prevent data breaches and stop accidental and malicious queries from flooding the network and database. This is key in handling sensitive student data and personally identifiable information protected by federal laws. SkySQL powers Campus Cloud with its dynamic scalability and a zero-tolerance policy for any downtime.
"We're thrilled to be recognized as a finalist in the SIIA CODiE Awards," said Dan Knoble, Chief Executive Officer, Campus Cloud. "We aim to go above and beyond by understanding what our customers need. We've seen such a positive impact when a healthy SIS is implemented. Without a timely, organized, and secure administrative solution, precious time and resources can be wasted, which takes away from educating students."
The SIIA CODiE Awards, the long-running, premier awards program for the software and information industries are produced by the Software & Information Industry Association (SIIA), the principal trade association for the software, education, media and digital content industries. Campus Cloud was picked as a finalist across 47 education technology categories, including new categories in education and leadership.
"The 2022 CODiE Award finalists highlight the products and people who drove their industries forward through innovative products and leadership in these uncertain times," said SIIA President Jeff Joseph. "These honorees continue the proud tradition of CODiE Award finalists of recognizing the most impactful products, services and leaders of their time, setting a foundation for the next generation of innovators. Congratulations to all who received this well-earned acknowledgment."
About Campus Cloud
Campus Cloud Services is a cloud-based student information system (SIS) provider. Our SIS is the first cloud-based, real-time solution that manages all student data in one place – across admissions, academics, financial aid, accounts and billing, graduation, and career placement.
About the SIIA CODiE™
Awards The SIIA CODiE Awards is the only peer-reviewed program to showcase business and education technology's finest products and services. Since 1986, thousands of products, services and solutions have been recognized for achieving excellence. For more information, visit siaa.net/CODiE.
About Software and Information Industry Association (SIIA)
SIIA is the only professional organization connecting more than 450 data, financial information, education technology, specialized content and publishing companies. Our diverse members provide the critical data, content, and information that drives the global economy, informs financial networks, connects learners and educators, and drives innovation. Learn more at siia.net.